Building automation / App control
Designed for use in any building automation system through the integrated dry contact port in the motor. 230V direct control is possible with the optional Dry Contact Relay. The BUS ports allow for individual and group controls of the motors. Controlling your smart curtains by your smartphone or tablet is also possible with our app solutions: wireless connector and WiFi dongle.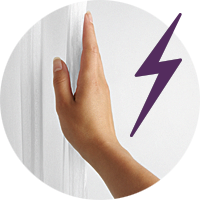 Integrated emergency control
In case of power failure, the curtain can still be moved manually. Standard feature.